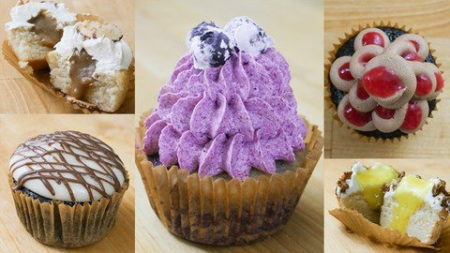 MP4 | Video: h264, 1280x720 | Audio: AAC, 44.1 KHz
Language: English | Size: 2.33 GB | Duration: 2h 0m
The perfect vegan cupcake course for beginners! Learn the techniques you need to make cupcakes without dairy or eggs.
What you'll learn
You will learn to successfully make vegan cupcakes from scratch.
You will learn how to troubleshoot cupcakes.
You will discover a variety of frosting and filling techniques.
You will gain access to cupcake recipes that you can keep forever.
You will learn what equipment and ingredients are best for cupcakes.
You will discover professional looking cupcake finishing techniques.
You will learn how to take base recipes and alter them to create many more flavors.
Requirements
No prior baking skills required. Perfect for beginners!
All of the recipes in this course are in grams, so a scale will be absolutely necessary.
Basic cupcakes tools will be required. The equipment lesson will go over everything you need.
Description
This course will give you the building blocks you need to create a multitude of delicious and beautiful vegan cupcakes.
We will walk through the recipes step-by-step so that you understand the actions necessary to master the basics. There is plenty of foundational information as well as professional tips and tricks for better cupcakes. You will learn so much about baking, filling, frosting, and topping dairy free cupcakes.
You can increase your skills for your own unique needs:
A desire to become a better baker.
Looking to gain professional skills.
Just getting started with vegan baking.
Starting your own vegan cupcake business.
My goal is to give you the confidence and skills to create your own cupcake combinations!
This course has 5 cupcake projects:
Vanilla cupcakes with a coffee cream filling, almond frosting, and a crunchy almond praline.
Chocolate cupcakes with a raspberry filling, chocolate frosting, and more raspberry on top.
Chocolate cupcakes with a chocolate ganache filling, vegan cream cheese frosting, and a ganache drizzle.
Blueberry swirl cupcakes with a blueberry frosting and powdered blueberries.
Lemon shortbread cupcakes with vanilla bean frosting, lemon curd filling, and an oat crumble topping.
All of these cupcake projects are broken down into smaller lessons so that you can master each technique necessary to create elaborate cupcakes.
The recipes in the course will give you great foundational skills in:
Cupcake baking
Fruit compotes
Thickened fruit fillings
Vegan ganache
Egg free curds
Egg free custards
Multi-layer cupcakes
Easy pralines
Simple baked crumbles
Cupcake piping techniques
Each recipe has a video lesson as well as a PDF download that you can keep forever!
Cupcakes are a necessary skillset within the baking and pastry world.
Cupcake only bakeries really changed the game for these individual cakes and the industry has never looked the same since. Almost every baking business has some form of a cupcake on their menu. With changing trends around the world moving to more sustainable practices, learning about vegan cupcakes is of great benefit.
The beauty of learning about cupcakes is that most of the recipes out there are really built off of tried and true basic recipes. That's what you will learn in this course...creating many out of a few.
INCLUDED WITH THE COURSE:
Downloadable study guides that you can keep forever.
Printable recipes.
Lifetime access to the course.
Personalized assistance through direct messaging and community boards.
Udemy certificate of completion-perfect for helping you to get a new job that requires advanced skills!
30-day 100% money back guarantee.
Are you ready to enroll?
I hope to see you in the course!
All the best,
Amy
Who this course is for:
Anyone who would like to learn how to make vegan cupcakes well.
Individuals seeking to learn all of the basics to start a business.
Culinary students who want to broaden their knowledge in vegan baking.
Professional bakers who want to gain more insight into alternative baking.
https://uploadgig.com/file/download/a0b6c0bF58de16E4/JuBEB6cS__The_Basics.part3.rar
https://uploadgig.com/file/download/F7cb9261b7D61468/JuBEB6cS__The_Basics.part2.rar
https://uploadgig.com/file/download/18b58aBdbbc21Cc6/JuBEB6cS__The_Basics.part1.rar
or
https://rapidgator.net/file/d779d7cb751229daa5824c4215e83704/JuBEB6cS__The_Basics.part3.rar.html
https://rapidgator.net/file/ce4678d723ece6f8608cd5900d40100f/JuBEB6cS__The_Basics.part2.rar.html
https://rapidgator.net/file/a540fd9733fd7a6b57590c4a18372b66/JuBEB6cS__The_Basics.part1.rar.html
or
https://hot4share.com/eqdlcray5pt8/JuBEB6cS__The_Basics.part3.rar.html
https://hot4share.com/ulgbgk6mkjk8/JuBEB6cS__The_Basics.part2.rar.html
https://hot4share.com/pei3gxuq8cep/JuBEB6cS__The_Basics.part1.rar.html