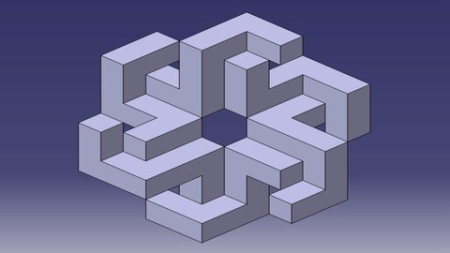 Genre: eLearning | MP4 | Video: h264, 1280x720 | Audio: AAC, 48.0 KHz
Language: English | Size: 7.52 GB | Duration: 13h 2mDive into the world of designing in Catia V5 using Part Design, GSD, Assembly Design and Drafting Workbench's.
What you'll learn
Catia V5, General lay out and tools
Sketcher Workbench
Part Design Workbench
Generative Shape Design Workbench
Assembly Design Workbench
Drafting Workbench
An understanding of 3D modeling in CATIA V5
Description
Introduction
Catia V5 is a multi-platform software suite for computer-aided design (CAD), computer-aided manufacturing (CAM), computer-aided engineering (CAE), PLM and 3D, developed by the French company Dassault Systems.
CATIA is used by many of the top companies with in the aerospace industry such as Airbus, Boeing, Bombardier, BAE systems it is also widely used in the automotive industry with companies such as BMW, Porsche, McLaren Automotive, Chrysler and Honda using the software.
CATIA V5 is also used in the Shipbuilding, Industrial equipment, High tech, Energy, process and utilities and in Architecture.
Adding CATIA V5 to your skill set can create a lot of job opportunities and this is the course to help you achieve that.
Description
In this course we will be looking at the industrial design aspect of the software, based around the 25 years experience in the aerospace industry.
The course is divided in to easy to complete sections with plenty of tutorials for the student to complete.
Included with the course:-
Presentations of each lesson.
PDF's of required drawings.
Practice and example models.
Student Facebook page.
What You Will Learn
The basics of the CATIA V5 User interface with basic workbench information.
Creating and opening parts.
Part Design Workbench.
Generative Shape Workbench.
Assembly Design Workbench.
Drafting Workbench.
2D and 3D modeling skills.
Interrogating your model.
Adding Materials.
Why this Course
The CATIA V5 for Designers course will take the student from beginner to advanced user.
The CATIA V5 for designers is a step by step instructional system with tutorials and quiz's to help lock the learning in place as the course is followed.
The lessons are short and to the point and can be followed on the supplied hand out or using your own CATIA machine.
By the end of this course the student will be able to access Catia and feel comfortable with the lay out and location of menus windows and workbenches, and be comfortable sitting down and starting a model from scratch, be it modeling a existing drawing or modeling 3D
The students will be able to create and change existing models using the
Who this course is for:
Beginner CATIA Users and CATIA Users who are looking to improve.
https://uploadgig.com/file/download/618cab1d05bb6bA0/Catia_V5_For_Designe.part8.rar
https://uploadgig.com/file/download/9575fBfca0417814/Catia_V5_For_Designe.part7.rar
https://uploadgig.com/file/download/8c49E705dE7f8c6e/Catia_V5_For_Designe.part6.rar
https://uploadgig.com/file/download/20E3A754e78094c1/Catia_V5_For_Designe.part5.rar
https://uploadgig.com/file/download/3469ee31b4dfDa0b/Catia_V5_For_Designe.part4.rar
https://uploadgig.com/file/download/E9c5c51EEa785f27/Catia_V5_For_Designe.part3.rar
https://uploadgig.com/file/download/51C9C7F49f8f75bd/Catia_V5_For_Designe.part2.rar
https://uploadgig.com/file/download/7cc6c4582Ec0f274/Catia_V5_For_Designe.part1.rar
or
https://rapidgator.net/file/119995ce2481531c7f4fec4cf10f4fb8/Catia_V5_For_Designe.part8.rar.html
https://rapidgator.net/file/423ae001a34123306ee487a516a62ec4/Catia_V5_For_Designe.part7.rar.html
https://rapidgator.net/file/6c4a2ab8af1cc5aec7b2a92d362354b0/Catia_V5_For_Designe.part6.rar.html
https://rapidgator.net/file/743adfad15434bc60ed0aa1777ba578c/Catia_V5_For_Designe.part5.rar.html
https://rapidgator.net/file/9c211b5b11fb514e1e04085f29b90305/Catia_V5_For_Designe.part4.rar.html
https://rapidgator.net/file/521e8facf8edbfc52557bb3f7ab05410/Catia_V5_For_Designe.part3.rar.html
https://rapidgator.net/file/a0abd54412dbca9c4be7cfc502a4e80e/Catia_V5_For_Designe.part2.rar.html
https://rapidgator.net/file/489b2ff892b75d47fc5b542bc1d83cae/Catia_V5_For_Designe.part1.rar.html
or
https://hot4share.com/z3rxxxbf9ayb/Catia_V5_For_Designe.part8.rar.html
https://hot4share.com/eoatroqv0dl6/Catia_V5_For_Designe.part7.rar.html
https://hot4share.com/eie4hbl55gl2/Catia_V5_For_Designe.part6.rar.html
https://hot4share.com/taiswsrud1sj/Catia_V5_For_Designe.part5.rar.html
https://hot4share.com/2ezcq9gpgshm/Catia_V5_For_Designe.part4.rar.html
https://hot4share.com/msreu57cnfi5/Catia_V5_For_Designe.part3.rar.html
https://hot4share.com/ngx8627woo3t/Catia_V5_For_Designe.part2.rar.html
https://hot4share.com/blal9z0h45b4/Catia_V5_For_Designe.part1.rar.html