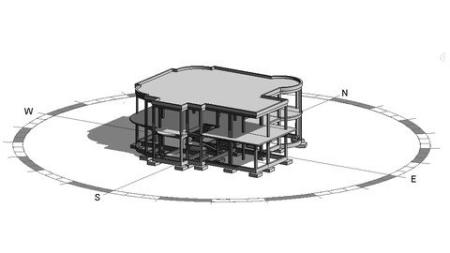 Genre: eLearning | MP4 | Video: h264, 1280x720 | Audio: AAC, 44.1 KHz
Language: English | Size: 2.65 GB | Duration: 3h 59mStep-by-Step Complete Shop Drawing (Formwork) for RC Building from A-Z using Revit 2022
What you'll learn
Import Architectural plans from DWG to Revit
Building a complete model of a two-story villa
Create a bill of quantity for all the project elements
Add dimension and Tag to all elements
Create a professional shop drawing sheets
Print sheets to PDF
Export sheets & the 3D model to DWG
Description
Hello, welcome to
Revit Structure 2022 : Step-by-Step Complete Shop Drawing for RC Building from A to Z (Formwork)
Divided into five main chapters, our course covers all aspects of Revit Structure, to help you master Building Models, Schedules and Quantities, Dimension and Tag, Sheets, print PDF and Export from Revit to DWG.
The use of Revit Structure will be explained through direct application on a simple concrete project, starting from import Architectural Plans, to produce a professional structural shop drawing (formwork).
To get the most out from the course, it is preferable to open Revit and start applying step by step with videos.
Finally, at the end of the course , you will be ready to start your own project using Revit and prepare all shop drawing (formwork) professionally.
What you will learn in this course ?
Create new project
Load Templates from Revit Library
Editing Project Units
Creating Levels
Importing and Scaling a DWG File into Revit
Adding Structural Grids
Adding Structural Columns
Creating Column Family
Plan View & View Range
Adding Structural Beams
Adding Structural Slab
Creating Stair (Model In-Place)
Adding Foundation
Loading round column from Revit Library
Modify tools ( Align, Offset, Mirror, Split, Pin and Unpin, Trim/Extend, Move and Copy)
Join options ( Join Geometry, Unjoin Geometry, Switch Join Order)
Spot Elevation
Set Work Plane
Visibility/ Graphic
Copy to selected views/levels
Duplicate View
Drafting View
Structural plan view (Up & Down)
Section Box
Schedules/Quantities
Material Takeoff
Identity Of Elements (Comments)
Schedule Properties ( Fields, Filter, Sorting/Grouping, Formatting/Appearance)
Foundation Schedule
Columns Schedule
Beams (Framing) Schedule
Duplicate Schedule
Slab Schedule
Stair Schedule
Edit Schedule
Annotate options ( Tag, Dimensions, Text & Detail)
Create Sheet & Title Block
Edit Title Block
Text & Label
Adding structural plans into sheets
Adding Schedules into sheets
Adding Drafting View (Detail) into sheets
Creating Section
Print to PDF (Print Type, Paper Size, Print Range)
Export Sheets to DWG
Export 3D view to DWG
Who this course is for:
Anyone interested in structural engineering
https://uploadgig.com/file/download/3E3B7e5fbE2b5188/Revit_Structure_2022.part3.rar
https://uploadgig.com/file/download/d660058a2441EdC4/Revit_Structure_2022.part2.rar
https://uploadgig.com/file/download/7f32851b006e9257/Revit_Structure_2022.part1.rar
or
https://rapidgator.net/file/2fc8e5b78c2fd81b6f058e61a233b133/Revit_Structure_2022.part3.rar.html
https://rapidgator.net/file/dc33cba9b2881d722af58822855bf9ce/Revit_Structure_2022.part2.rar.html
https://rapidgator.net/file/9ff684e4adeab82ecfbf77c75010598b/Revit_Structure_2022.part1.rar.html
or
https://hot4share.com/jkspibvyhj5r/Revit_Structure_2022.part3.rar.html
https://hot4share.com/g7t3dxtehoa7/Revit_Structure_2022.part2.rar.html
https://hot4share.com/8zltlg82g8a1/Revit_Structure_2022.part1.rar.html