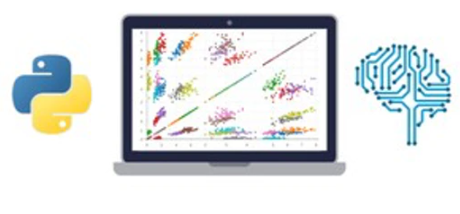 New | Created by Sufa Digital Media | Last updated 10/2021
Duration: 15h 39m | 15 sections | 89 lectures | Video: 1280x720, 44 KHz | 5.555 GB
Genre: eLearning | Language: English + Sub
Learn Machine learning and data science with python and solve real world machine learning problems
What you'll learn
Understand the full product workflow for the machine learning lifecycle.
Learn to use NumPy for Numerical Data
Learn to use Pandas for Data Analysis
Learn to use Matplotlib for Python Plotting
Requirements
Knowledge Of Machine Learning
Description
Machine learning is a subset of artificial intelligence (AI). It is focused on teaching computers to learn from data and to improve with experience - instead of being explicitly programmed to do so. In machine learning, algorithms are trained to find patterns and correlations in large data sets and to make the best decisions and predictions based on that analysis. Machine learning applications improve with use and become more accurate the more data they have access to. Applications of machine learning are all around us -in our homes, our shopping carts, our entertainment media, and our healthcare.
Machine learning - and its components of deep learning and neural networks - all fit as concentric subsets of AI. AI processes data to make decisions and predictions. Machine learning algorithms allow AI to not only process that data, but to use it to learn and get smarter, without needing any additional programming. Artificial intelligence is the parent of all the machine learning subsets beneath it. Within the first subset is machine learning; within that is deep learning, and then neural networks within that.
Machine learning is comprised of different types of machine learning models, using various algorithmic techniques. Depending upon the nature of the data and the desired outcome, one of four learning models can be used: supervised, unsupervised, semi-supervised, or reinforcement. Within each of those models, one or more algorithmic techniques may be applied - relative to the data sets in use and the intended results. Machine learning algorithms are basically designed to classify things, find patterns, predict outcomes, and make informed decisions. Algorithms can be used one at a time or combined to achieve the best possible accuracy when complex and more unpredictable data is involved.
Who this course is for:
Beginners In Machine Learning
Password: SoFTArChive
Homepage
https://uploadgig.com/file/download/fE3a7137bF86AD52/7RtpFpHb_LearnMachin_.part6.rar
https://uploadgig.com/file/download/cba44bcfB843eA7e/7RtpFpHb_LearnMachin_.part5.rar
https://uploadgig.com/file/download/29871717a5805Bbb/7RtpFpHb_LearnMachin_.part4.rar
https://uploadgig.com/file/download/fc4b4Af6b49555ED/7RtpFpHb_LearnMachin_.part3.rar
https://uploadgig.com/file/download/d86eF60aA6d3F9f5/7RtpFpHb_LearnMachin_.part2.rar
https://uploadgig.com/file/download/bd29B1e968433Cac/7RtpFpHb_LearnMachin_.part1.rar
or
https://rapidgator.net/file/b82f4abba0216f6a4125d02851755076/7RtpFpHb_LearnMachin_.part6.rar.html
https://rapidgator.net/file/1c387de4e89848ae02c4f6c78a1e152e/7RtpFpHb_LearnMachin_.part5.rar.html
https://rapidgator.net/file/982a590ff73b9464b3cc343a58996b49/7RtpFpHb_LearnMachin_.part4.rar.html
https://rapidgator.net/file/483b19d00b735481bf09664a8fb9f862/7RtpFpHb_LearnMachin_.part3.rar.html
https://rapidgator.net/file/a2b6953dcb05af474cdd5cc7c78f0243/7RtpFpHb_LearnMachin_.part2.rar.html
https://rapidgator.net/file/60735c3dd0fe80832df5560d6adbf7d7/7RtpFpHb_LearnMachin_.part1.rar.html
or
https://hot4share.com/7d5fcelj3n8b/7RtpFpHb_LearnMachin_.part6.rar.html
https://hot4share.com/7hd9fu6448qp/7RtpFpHb_LearnMachin_.part5.rar.html
https://hot4share.com/i7y0bhlack1l/7RtpFpHb_LearnMachin_.part4.rar.html
https://hot4share.com/4ztef6pa0lg0/7RtpFpHb_LearnMachin_.part3.rar.html
https://hot4share.com/xivrjg4wiwbg/7RtpFpHb_LearnMachin_.part2.rar.html
https://hot4share.com/7h03iedxilph/7RtpFpHb_LearnMachin_.part1.rar.html