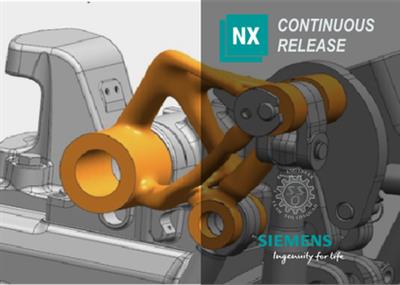 Siemens NX 1996 Build 2801 (NX 1980 Series) | 21.1 Gb
Languages Supported: English, 中文, Čeština, Español, Français, Deutsch, Italiano,
日本語, 한국어, Polski, Português, Русский
Updated: Added Siemens NX 1980 Series Add-ons & Databases (build 11012021)
The Siemens Digital Industries Software development team is pleased to announce the availability of NX 1996 Build 2801 (NX 1980 Series). With this release, we continue to provide innovative ways to deliver solutions that meet the next generation of your product design, development, and manufacturing challenges.
NX 1996 Build 2801 Release Notes - Date: October 2021
Release,PR Number,Description,Application,Function,Sub_Function
1996,8477815,"Possibility to increase the Recoating Time more than 10 sec in ""Check Print Time",DESIGN,ADDITIVE,CK_PRINTTIME
1996,8478758,Step AP242 Schnittstelle,TRANSLATOR,STEP_AP242,STEP_TO_UG
1996,8479255,"Closing dialogue gives error: License module ""nx_ml_sel_pred_std"" is not present",SYSENG,INTEL_PLATFORM,PREDICT_SEL
1996,8480449,FBM created wrong Toolname after using,CAM,FEATURE_BASED,RULES_OOTB
1996,10012153,[CAD]ATS can not validate the test cases in an old version of NX.,SYSENG,NXOPEN,.NET
1996,10030746,Internal error memory access violation error while editing Text feature,CAM,UPDATE,ALL
1996,10033772,Unable load workset contain invalid feature in an TDP executable outside of NX,TECH_DATA_PKG,PUBLISH,CORE
1996,10061190,Overstock on round stock results in interferring solid bodies.,ROUTING_GENERAL,STOCK_AS_COMP,OVERSTOCK
1996,10070158,ROUTE List: FROM connection ports not found,ROUTING_ELEC,CONNECTION_LIST,AUTO_ROUTE
1996,10075854,NX Managed Mode - Workpiece Save As... doesn't work anymore,CAM,TC_MFG,OTHER
1996,10076048,Drill operations spoil cut region in turning,CAM,TURNING,IPW
1996,10080953,NX crashed without message after open old parts,DRAFTING,FLAT_PATT_VIEW,OTHER
1996,10083443,Difference of results between SC 2020.2 and SC 2021.1,CAE,MOTION,CO_SIM_CONTROLS
1996,10091574,NXOpen - .Net DLL override or binding redirection,SYSENG,NXOPEN,.NET
1996,10095912,NX Not Displaying In-Context Transforms within MultiCAD (JT) Assembly When Loadi,NXMANAGER,FILE_OPEN,ARRANGEMEN_SYNC
1996,10096788,"theSession.UpdateManager.DoUpdate() fails with error ""NULL pointer error"" after",DRAFTING,ANNOTATION,RASTER_IMAGE
1996,10104610,"""Save IPW As"" locks session of NX",CAM,TC_MFG,OTHER
1996,10106530,Measurement referenced to an incorrect object,DESIGN,INFO_ANALYSIS,MEASURE
1996,10106800,NX Managed Mode - Save Workpiece as Fails,CAM,TC_MFG,OTHER
1996,10108219,unable to open a part file - error number 825242,CORRUPTED_PARTS,MODELING,ALL
1996,10110388,surface weld design feature,KDA,WELD_ASSISTANT,SURFACE_WELD
1996,10113404,Unable to open ap242 reduced functionality is not working,TRANSLATOR,STEP_AP242,ALL
1996,10113692,Error 11: Internal error: memory access violation opening assembly file,DRAFTING,TABLES,PARTS_LIST
1996,10116284,step file generated with command line is larger than when exported from NX,TRANSLATOR,STEP_AP203,EXPORT_GEOMETRY
1996,10117221,"STEP AP242 is not licensed, opening with reduced functionality - does not work",TRANSLATOR,STEP_AP242,STEP_TO_UG
1996,10118680,Engraving shows Internal errors when editing the text,CAM,BASIC_FUNCTIONS,UNDETERMINED
1996,10118939,Unable to save a JT file as NX 1980 prt,GATEWAY,SAVE_PART,DESIGN
1996,10123530,Bad geometries distribution in machining feature,CAM,FEATURE_BASED,FEATURE_RECOGNI
1996,10123683,Teach Mode Traversal Differences,CAM,TURNING,TEACHMODE
1996,10130268,MCD Cam-Editor Analyse Curves,MECHATRONICS,COUPLER,CAM
1996,10131123,General Pattern option within a sketch causes circular reference issue - Legacy,DESIGN,SKETCHER,PATTERN
1996,10133561,Getting stock not found error after importing PLMXML,ROUTING_ELEC,CONNECTION_LIST,AUTO_ROUTE
1996,10134554,ug_checkmate license does not check back IN immediately - 1953 Series specific,KDA,VALIDATION,FRAME_WORK
1996,10135279,Unable to set Value on property Synchronization Checksums,NXMANAGER,FILE_SAVE,FEATURE_PUBLISH
1996,10135476,Check-Mate throws stack underflow when calling UF_WEIGHT_estab_comp_props,KDA,KNOW_FUSION,LANGUAGE
1996,10136440,Measure Extreme Point disassociated after edit Linked Body,DESIGN,INFO_ANALYSIS,MEASURE
1996,10137113,MCD freezes (hang) when object gets deleted from Gripper (via Object Sink),MECHATRONICS,PROCEDURE,GRIPPER
1996,10137413,Retained dimensions on file open,DRAFTING,ANNOTATION,CENTERLINE
1996,10140402,Molded part validation not giving the correct results,KDA,MOLDED_PART_VAL,ALL
1996,10140693,Error when trying to fully load an assembly,ROUTING_GENERAL,REUSE_LIBRARY,PART_LIBRARY
1996,10141126,"Save failed, input string too long, synchronization checksums",NXMANAGER,FILE_SAVE,FEATURE_PUBLISH
1996,10141559,Auto Route fails with Stock not Found,ROUTING_ELEC,CONNECTION_LIST,AUTO_ROUTE
1996,10142148,The Damage Interface material is not supported by the current language,CAE,ADV_SIMULATION,LAMINATES
1996,10146858,unrecognize the moment data when imports lms file,CAE,ADV_SIMULATION,LOAD_RECIPE
1996,10147922,MW Meusburger Dowel E1302 fails to apply thread size after chamfer error,KDA,MOLDWIZARD,ALL
1996,10151151,Memory access violation,DRAFTING,TABLES,PARTS_LIST
1996,10182864,Open Drawing throws Internal Error after Renew Drawing and Save,DRAFTING,TABLES,PARTS_LIST
1996,10182989,Open drawing throws Internal Error after adding a column to custom parts list,DRAFTING,TABLES,PARTS_LIST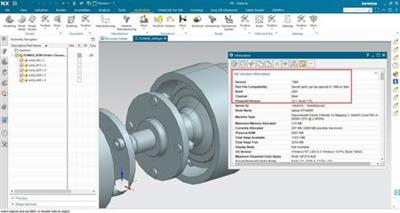 Siemens NX Continuous ReleaseSiemens is the first CAD/CAM/CAE software company
to offer a continuous release model. With NX Continuous Release, upgrading is fast, automated, and seamless. Upgrades with NX Continuous Release is independent of your current version while preserving your existing data - even data back from 1984. Siemens PLM customers in the Continuous Release main channel will see functional improvements every six months with monthly updates. The software updates themselves are smaller, so you no longer need to make large jumps between significant releases.
Experience NX Continuous Release
Siemens Digital Industries
is an innovation and technology leader in industrial automation and digitalization. In close cooperation with our partners and customers, we are the driving force for the digital transformation in the discrete and process industries.
Product:
Siemens NX Continuous Release
Version:
1996 Build 2801 (NX 1980 Series) *
Supported Architectures:
x64
Website Home Page :
www.plm.automation.siemens.com
Languages Supported:
multilanguage
System Requirements:
PC **
Size:
21.1 Gb
Siemens.NX.1996.2801.Win64.Full.Setup.iso
Siemens.NX.1996.2801.Win64.Update.Only.iso
Siemens NX 1980 Series Add-ons & Databases (build 11012021)
Minimum Operating Systems
- Microsoft Windows 10 (64-bit) Pro and Enterprise editions
Windows 10
Windows 10 is the minimum supported release for NX 1980. The supported versions of Windows 10 are the Pro and Enterprise editions utilizing Semi-Annual Channel (SAC) updates.
Recommended System Configuration:
- 64-bit Windows 10 operating system
- 4 GB RAM minimum, 8 GB or 16 GB RAM recommended
- True Color (32-bit) or 16 million colors (24-bit)
- Screen Resolution: 1280 x 1024 or higher, widescreen format
Buy
Premium
From
My Links Hot4share
To
Get
Resumable
Support
and
Max
Speed