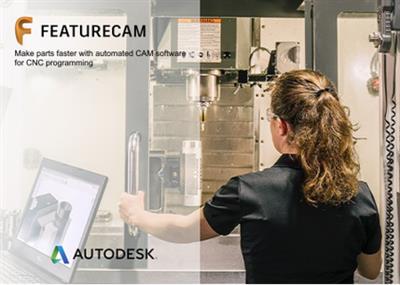 Autodesk FeatureCAM 2022.0.3 | 3.0 Gb
Languages Supported: English, Deutsch, Čeština, Español, Français, Magyar, Italiano,
日本語, 한국어, Polski, Português, Pусский, 简体中文, 繁體中文
The software developer Autodesk is pleased to announce the availability of update 3 to FeatureCAM 2022 is CNC programming software that allows you to automate your CAM workflow to NC code.
The fixes in FeatureCAM 2022.0.3.Tools
- Fixed an issue in which existing holders in a tool crib were sometimes removed when importing new tools. FCAM-5231
Simulation
- Fixed an issue in which a turning tool in a MillTurn simulation could be displayed with the wrong orientation, resulting in inaccurate simulation. FCAM-5429
- Fixed several issues in which 5-axis toolpaths could simulate incorrectly on certain vertical Millturn machines (C table over A table). FCAM-5430, FCAM-5439
Import and Export
- Updated ATF to version 10.13. See the file versions supported by FeatureCAM using ATF 10.13. FCAM-5441
Import file versions supported by Autodesk Translation Framework 10.13
In FeatureCAM 2022.0.3, the Autodesk Translation Framework (ATF) was updated to version 10.13. File versions supported by FeatureCAM using ATF 10.13: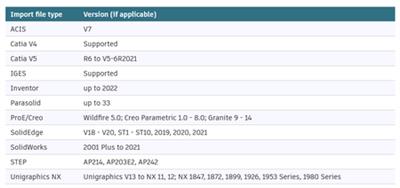 Autodesk Advanced Manufacturing solutions
meet the needs of a huge variety of manufacturers so if you are still using manual programming methods and need to expand, you have previously invested in CAM software which you are starting to outgrow or if you have an existing investment in CNC machinery and need to expand your capabilities and maximise machine potential, simply use Autodesk CAM Software and CAM Milling Solutions.
FeatureCAM software automates
your workflow from design to NC code. Imagine going from Design to NC code with a few mouse clicks, well that's what FeatureCAM is all about. With Automated processes that speeds up your production workflow and reducing your programming time.
FeatureCAM has you covered for a range of CNC machines CNC milling, turning, multi-tasking and wire applications. Get consistent high quality results every time with built in templates bringing the knowledge from the shop-floor to the end user. Reduce your programming time and produce consistent, high quality results.
Autodesk FeatureCAM
Autodesk
helps people imagine, design and create a better world. Everyone-from design professionals, engineers and architects to digital artists, students and hobbyists-uses Autodesk software to unlock their creativity and solve important challenges.
Product:
Autodesk FeatureCAM
Version:
2022.0.3 *
Supported Architectures:
x64
Website Home Page :
www.autodesk.com
Languages Supported:
multilanguage
System Requirements:
PC **
Size:
3.0 Gb
FeatureCAM_Ultimate_2022_Win_64bit_dlm_001_002.sfx.exe
FeatureCAM_Ultimate_2022_Win_64bit_dlm_002_002.sfx
FeatureCAM_2022.0.3.0018.msp
Manufacturing_Data_Exchange_Utility_2022.0.1.msp
FeatureCAM_2022.0.3.0018.msp
Buy
Premium
From
My Links Hot4share
To
Get
Resumable
Support
and
Max
Speed