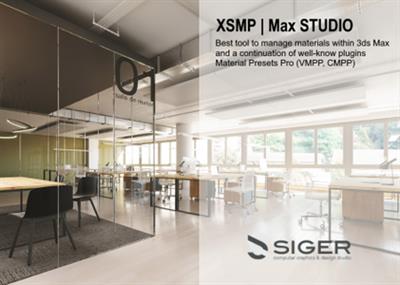 SIGERSHADERS XS Material Presets Studio 3.2.5 Update | 9.4 mb
The software developer SIGER STUDIO is pleased to announce the availability of update 2.5 to SIGERSHADERS XS Material Presets Studio 3.0.0 - powerful Material Library / Lab / Manager for Autodesk 3ds Max.
30.10.2021 - v3.2.5XSMP Plug-in
- Presets Library browser memory leak fixes.
- GUI templates and resources optimization.
- Improved image performance for Presets Library display.
- Rewritten templates for some GUI elements.
The Siger Studio's XSMP for 3ds Max
is a continuation of well-known plugins family: V-Ray Material Presets Pro (VMPP), Corona Material Presets Pro (CMPP) and Material Repository Pro (MRP). But at the same time it's a completely new software created from scratch.
The idea of the software dates back to 2006 - the first free material manager written with MaxScript (had only a few free material libraries). The history of the commercial plugin began in 2009 (C# and MaxScript). Nowadays - written in C# / C++ and has thousands of material presets, fast and convenient material manager, material lab for testing your materials.
XSMPmax comes in several editions: Repo, Professional and Studio.
Sigershaders user material saving and render preview 3ds maxSigershaders user material saving and render preview in 3ds max focuses on how you can successfully save your own materials in the sigershaders user lib so you can use them whenever you want and have an augmented workflow due to that.
SIGER STUDIO
is a European company, privately owned and funded - was founded in 2008 by leading industry veteran, in the Germany (Steinmauern). SIGER STUDIO creates and develops products that help CG artists by speeding up their workflow and increasing their quality of output and offers high quality computer graphics products and software for 3D visualizations, animations, game development and more. Our goal at SIGER STUDIO is to provide good resource for designers and artists.
Product:
SIGERSHADERS XS Material Presets Studio
Version:
3.2.5 Update Only
Supported Architectures:
x64
Website Home Page :
www.sigerstudio.eu
Languages Supported:
english
System Requirements:
PC *
Software Prerequisites:
SIGERSHADERS XS Material Presets Studio 3.2.0
Size:
9.4 mb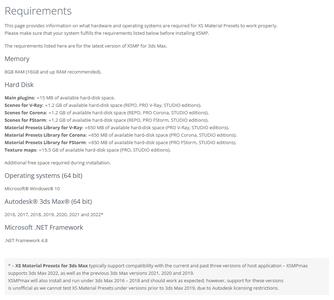 Added by 3% of the overall size of the archive of information for the restoration

[/center]

xSIGERSHADERS XS Material Presets Studio 3.2.5 Update

Close[/center]
Buy
Premium
From
My Links Hot4share
To
Get
Resumable
Support
and
Max
Speed