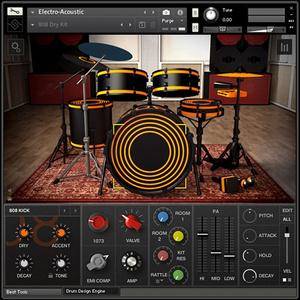 Soniccouture Electro-Acoustic v1.4.4 KONTAKT | 14 Gb
We wanted to combine classic drum machines ( 15, to be exact ) with the the organic ambience and warmth of studio recorded drums. So, we took a club PA to two different studios, turned it up really loud, and recorded the results: through high-end mics, vintage consoles, valve pre-amps, bass-amps and even acoustic drum shells.
The studio channels
Each drum was recorded through 11 different channels in the studio - blend to create any drum sound you desire.
1073: An overdriven Neve preamp.
Valve: Rooster preamp with 'attitude' dialled in
Amp: Ampeg bass cabinet mic'd up
EMI: TG12345 desk compressor
Room 1: SOTA studio - stereo SF-24 mic
Room 2: MV studio - spaced KM84 pair
Kit Res: Tom drums mic'd up
Rattle: Drum shell + other acoustic artifacts
PA: High, Mid and Low mics. Hi + Mid are stereo.
The drum kit panel
The sound-design heart of Electro-Acoustic, this screen has everything you need to build incredible sounding kits. Scroll through different drum machines for each kit piece, shape it using the 11 studio channels, then get really creative with pitch and envelope controls. For advanced drum-geeks, you can edit these for each channel independently if you desire.
Original hardware sample modelling
* Five round-robin layers for natural analogue variation
* Seperate Accents
* Original control knobs such as Decay, Tuning, Tone, faithfully recreated
* 808 Bass Drum: DECAY + TONE knobs x 11 studio channels: 13,310 samples.
* 87,000 samples in total
Euclidean Beats | Poly Beats | Beat Shifter
* 3 unique custom sequencers.
* Simple to use, but with tight, complex results.
* All with MIDI drag'n'drop to your DAW.
Features + Specs
* 15 Vintage drum machines
* 11 Studio channels: mics, preamps PA speakers
* 3 creative sequencers: Euclidean Beats, Beat Shifter, Poly Beats
* Build your own hybrid drum kits, e.g.: 808+606+Linn+DMX
* 150+ Preset Kits
* 24 Bit 48 khz Sampling - 14GB core library (with NCW compression)
* Kontakt Player + NKS compatible
https://www.soniccouture.com/en/products/28-experimental/g58-electro-acoustic/
Buy
Premium
From
My Links Hot4share
To
Get
Resumable
Support
and
Max
Speed