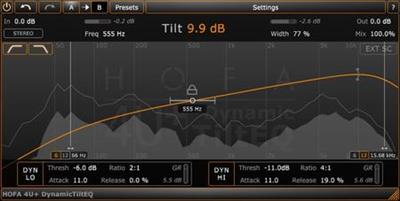 HOFA 4U Plus Dynamic TiltEQ v1.0.7 WiN | 4 Mb
HOFA 4U+ DynamicTiltEQ is the best freeware Tilt EQ plugin out there. It does everything the legendary analog models did: Optimise the balance between bass and treble with one simple control at the highest audio level. We wanted to know which features the best Tilt EQ of the world needs and came up with a list, that leaves no wishes unfulfilled. The freeware version includes:
boost/attenuation of up to 24 dB
variable tilt width for transparent adjustments as well as musical sound shaping
process bass and treble seperately
low cut and high cut filter (6 & 12 dB/octave)
individual routing for stereo, mid, side, left and right processing
up to 32x oversampling
support for Mac and PC, 32- and 64-bit DAWs
It's extremely worth it to activate the dynamic feature for treble and bass processing and the integrated analyser. The very affordable paid version also offers parallel processing and a DRY/WET control.
Check my blog!
Buy
Premium
From
My Links Hot4share
To
Get
Resumable
Support
and
Max
Speed